Conditions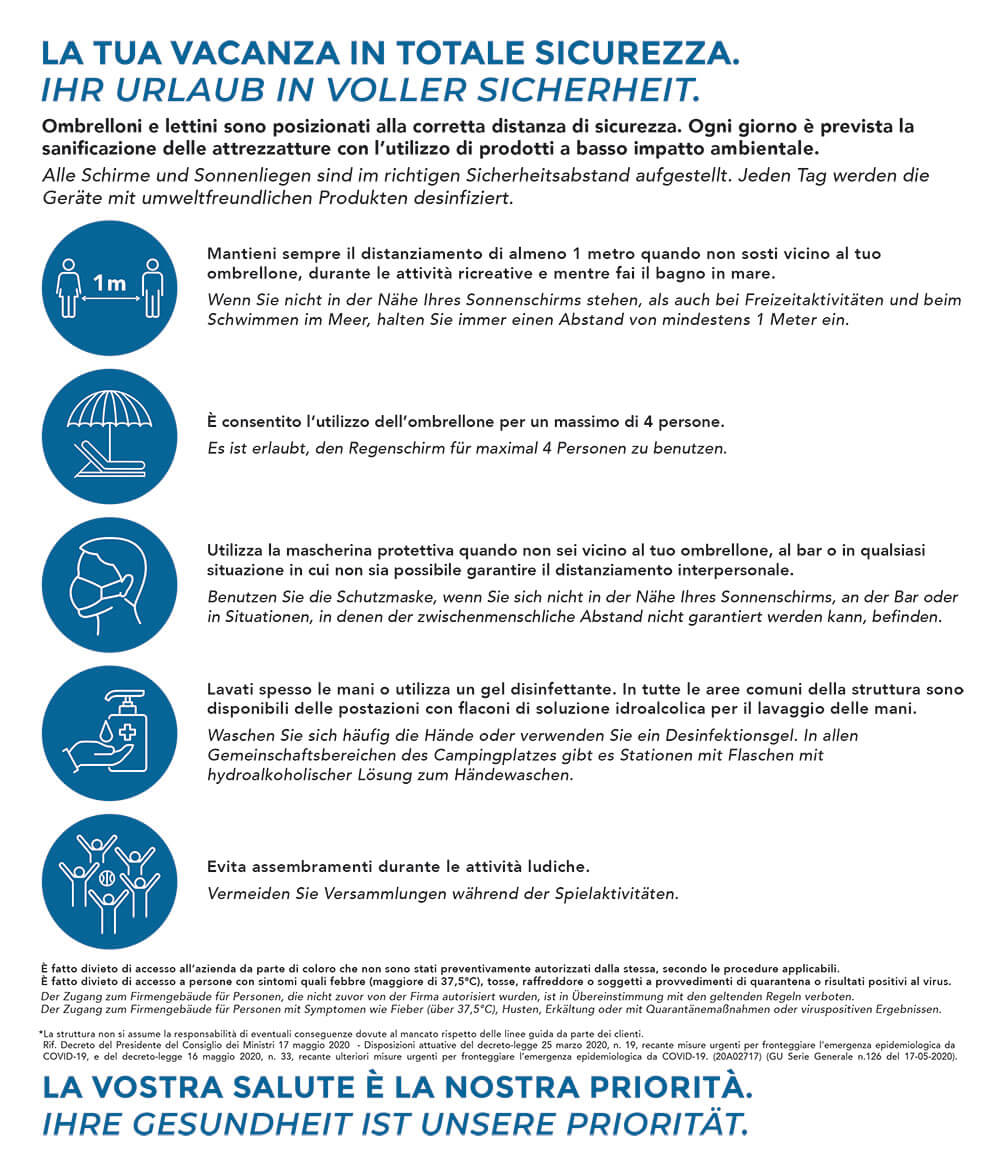 In the following you will find a summary containing the most important rules related to the use of the beach areas under the direct control of Bibione Mare S.p.A. You have to respect also the regulations of the sea authority and the local authority of San Michele at Tagliamento and the nautical codeas well as and the urgent provisions issued by the Council of Ministers to deal with the epidemiological emergency by COVID-19 .
These regulations can be found in the relevant orders and near the beach access.
1)
OnIy paying guests are allowed to use the beach facilities and to stay in the above mentioned areas.
2)
It is not allowed to use own deck chairs, sun beds and beach umbrellas.
3)
The area beetween the first row of beach umbrellas and the seashore is for transit only.
4)
A maximum of four persons is allowed to use one beach umbrella with deck chairs/sun beds.
5) For no reason pre-sold entrance tickets may be refunded (either the ones purchased at the ticket office and online).
6)
Please use mobile phone and other devices (eg. Headset) respecting your neighbour's privacy, and paying attention to the voice tone and the other devices volumes.
Furthermore, it is not permitted to:
a)
Undress or change clothes at the beach or in the sanitary facilities.
b)
Play with a ball or other games which may disturb or endanger other persons.
c)
Take dogs or other animals to the beach (also it put on the lead).
d)
Light fires.
e)
Move the deck chairs or sun beds allotted to the sun umbrella away from it.
f)
Use soap or shampoo for the showers on the beach.
g)
Get on the beach by bicycle or motor vehicles.
h)
Change the place without the permission of the beach office.
i)
Swim with bad weather conditions and red flag hoisted.
j)
Deposit materials in the waste separation containers which are not specified on the container.
k)
Bibione beach is Smoke Free. The area stretches from the water's edge to the last row of umbrellas, therefore, also within the organized sectors. Smoking is permitted in the kiosks and in the area behind the umbrellas, in areas specifically denoted to smokers.
l)
It is strictly forbidden to use your own products to further clean any beach equipment. Ask for the sanitizing product at the ticket office.
Meaning of the flags:
BLUE
: Weather conditions suitable for swimming.
RED
: Bad weather conditions - Do not swim - No lifeguard on duty.
The access to the beach is free